Customer Reviews
12/01/2019
Tina H.
Denmark
very pleased
I'm very pleased with both the delivery to Denmark and the use of the cane. With light and alarm, the cane gives me even more security.
11/29/2019
Rosanna M.
United Kingdom
Walking stick
Very good stick does everything it says I bought 2 sent one to my sister in law she loves it too likes the light as it's dark up to her front door and finds the light very useful
11/15/2019
Helen P.
United Kingdom
Good choice
I bought it for my husband and he is delighted with it he only uses this stick and none of his previous ones. The torch is very useful and the fact that it stands is a big plus
10/14/2019
Carmel S.
Malta
A most satisfactorily appliance
I am more than satisfied with your excellent product. It gives me confidence when I use it in a non smooth terrain . Most safe and smart looking appliance . Ideal for all thise who are unabke to walk properly . Strongly recommended for everyone who needs a walking aid . Thank you for such a most useful gadget . Regards from Malta Carmel
10/06/2019
Rifat B.
United Kingdom
Excellent
This walking Cane is perfect for me. Thanks a lot.
10/06/2019
AMA A.
India
Self standing foldable walking stick
Very much satisfied
Very Good Product!
I got this for my good friend who is on a business trip here. Unfortunately, She was injured last week and began to use this cane, she especially like this gift and took some photos for me. Just as described,stands up on its own, adjustable and the LED light feature is perfect, very bright. Very good product.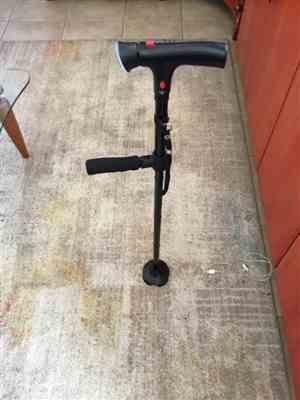 My Husband Loves It!
I got this came for my husband i ordered it cause i thought it was cool that he could light up the path he was walking on the cane and not have to hold another item. The flashlight itself is pretty bright. He liked that you could change the bottom feet so on days he's feeling less stable he could use the three feet one and on days he's feeling a little more stable he could use the other one. I recommend this came to all my friends and family close